Ironical! Cynical!
while he's religious fanatic, Pacquiao 's Mom practices VOODOO
https://youtu.be/2DKR3qsKMT4 #witch #fantatic #pacqiao #hypocrit #moral
ademas de bruja es promiscua
mienras que el animal de su hijo habla de moral
que la amarre primero y luego hablamos

Esta loca la mama de Piacquiao? como el

Toda esa gentusa de Filipinas tienen problemas mentales.
la verdad si,
hay mucha pobreza e ignorancia
si no fuera porque usa necesita las islas, ya no estaban en el mapa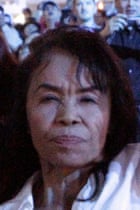 Dionisia 'Mommy D' Pacquiao, mother of the eight-division champion often spotted at ringside. A national celebrity in the Philippines, she famously called for Pacquiao to retire after he was knocked out by Juan Manuel Marquez in 2012. During Pacquiao's second fight with Timothy Bradley in April 2014, a clip of Mommy D clutching a rosary and prayer card and appearing to put a hex on Timothy Bradley went viral. (She formally denied it.) Once confronted her son on live television about his choice to abandon traditional Philippine Catholicism for a form of evangelical Protestant Christianity. The day after the Bradley rematch, she covered Wrecking Ball on a popular Philippine TV show. Now 65, her relationship with her decades-younger boyfriend – she reportedly wants to have a child with him – is tabloid catnip back home.